ABSTRACT
The eight-week accumulation in imported iron ore inventories at 45 Chinese major ports finally came to an end over August 19-25, with the volume thinning by 722,100 tonnes or 0.5% on week to 138.2 million tonnes, according to the survey. Behind the reversal in iron ore port stocks was the higher daily discharge rate.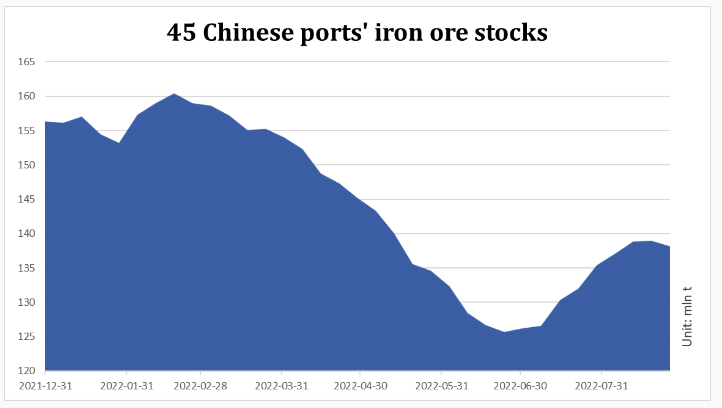 During the latest survey period, the daily discharge rate from these 45 ports totaled 2.8 million tonnes/day on average, touching a one-month high after the fourth consecutive week of rise, though it was still 4.5% lower than the same period last year.
The higher discharge rate reflected Chinese steelmakers' recent production resumption, as they need to haul more iron ore from ports to feed their ramp-up blast furnaces when their in-plant ore stocks remained low,  
Among the total, Australian iron ore stocks at 45 ports slid by 892,900 tonnes or 1.4% on week to 64.3 million tonnes after rising in the prior week, while those from Brazil recovered to 46.3 million tonnes, up by 288,600 tonnes from last week's volume.
By product, lumps had climbed for the fourth week by another 2.3% on week to 20.1 million tonnes to hit a new high since February 11, and pellets also grew by 59,100 tonnes on week to 6.1 million tonnes, while concentrates thinned to 8.9 million tonnes, down by 3.3% on week.
Recently, portside trading of lumps has remained mediocre, as some steel producers reduced lump consumption to lower production costs when their margins had been squeezed by higher coke procurement prices, according to a Shanghai-based analyst. Higher lump feeds into blast furnaces will consume more coke than sintered iron ore feeds and pellets.
On the other hand, the tonnage held by Chinese traders had risen for the eighth week by 273,300 tonnes to 83.3 million tonnes as of August 25, or accounting for 60.3% of total port stocks, up 0.5 percentage point on week to hit the highest since we commenced the survey on December 25 2015.
---
Post time: Aug-26-2022