Export Chinese Phillips No.2 Fillister Pan Framing Head Self Drilling Screw
Product Detail
Product Tags
1. Self-drilling screws have various names. They're often called metal screws, sheet metal screws, tapping screws, or tapper screws.
2. Their tips come in different shapes: drill tail, pointed (like a pencil), blunt, or flat, and they are described as thread-forming, thread-cutting, or thread rolling. If the screw is pointed, it will be thread-cutting – tapping and creating threads in a pre-drilled hole. If the tip is flat, it is thread-rolling – rolling or extruding threads and creating zero clearance between screw and material.
3. This fillister pan framing head self drilling screws is using for fastening light gauge steel. And it is reliable if used properly.
4. They are cheap compared to other means of joining.
5. Easily disassembled.
6. It doesn't require pre-moulded threads.
7. Good impact and vibration resistance.
8. No curing time or settling time to achieve full strength.
9. No special tool required.
Tianjin Xinruifeng Technology Co., Ltd. has been in the fastener industry for nearly 20 years and we can customize all kinds of products per your requirements. We have an established management system and quality control procedure. Excellent quality, competitive price, and timely delivery are the pillars of the company's foundation. Win-win and long-term cooperation is our final goals when dealing with different clients.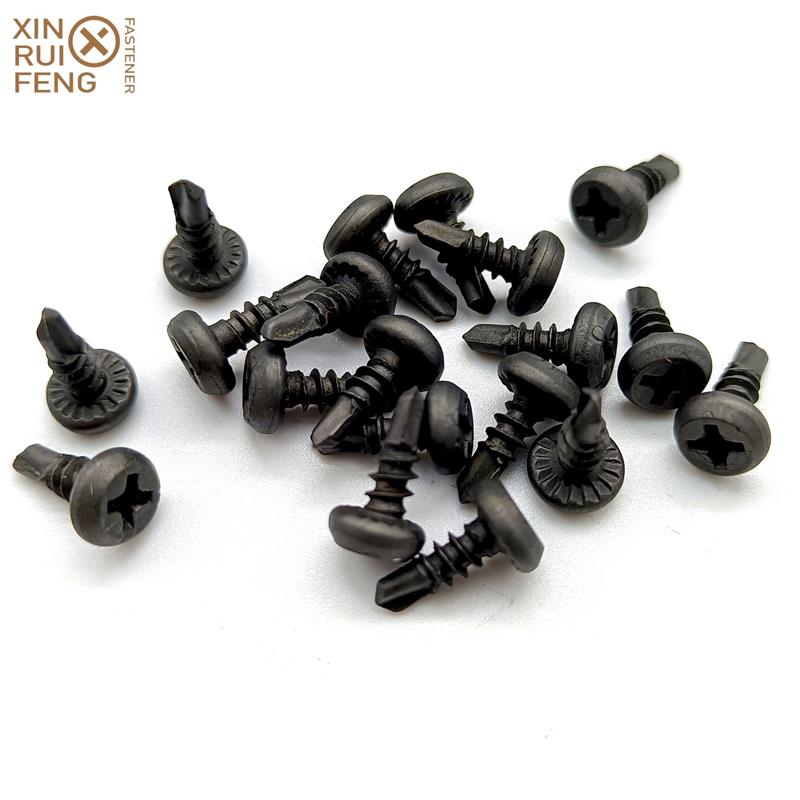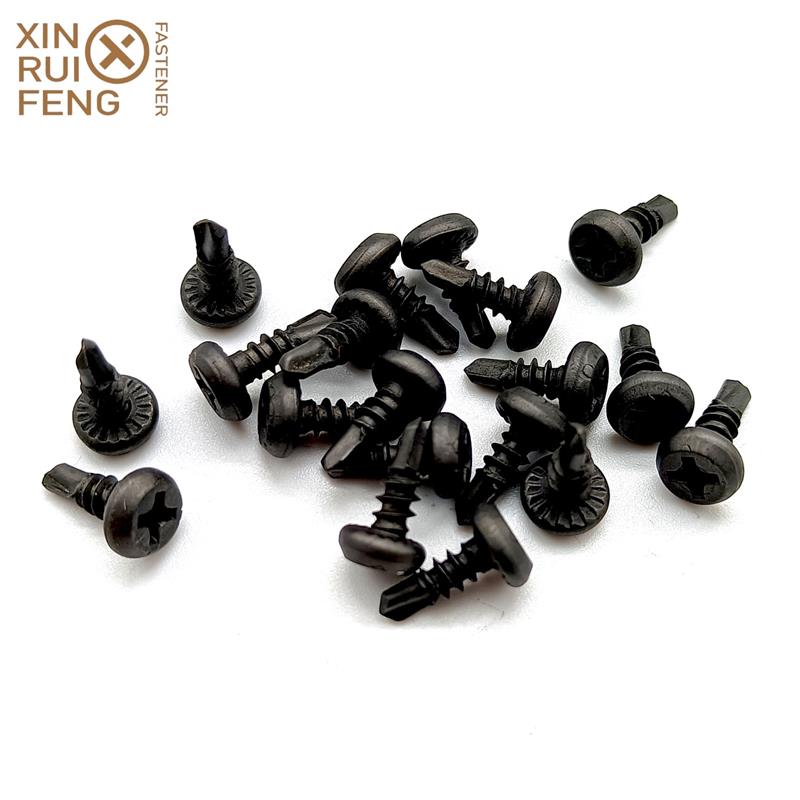 ★ We are premium manufacturer    
★ We are professional exporter
★ Supply premium quality products
★ Guarantee timely delivery
★ Provide best service
★ Quote competitive price
★ Produce according to DIN, ISO, GB standard or our customer's drawings or samples
★ Accept OEM, ODM order
Fillister Pan framing head self drilling screw are more often used for metal-to-metal bonding. Hence the requirements for strength to products. Its are made of low carbon steel. This alloy of iron with carbon without impurities has increased strength. Finished products are covered with a protective layer. This provides the hardware with corrosion resistance, extending its service life.
"Black" pan framing head self drilling screw are obtained due to the phosphate layer on the metal product, which improves the adhesion of the paintwork to the fasteners. pan framing head self drilling screw phosphate - the best option when working for painting. If pan framing head self drilling screw are coated with bituminous varnish, then their protective characteristics increase, and they are applicable in conditions of high humidity. Under the action of solutions of alkalis and acids, the phosphate film is destroyed.
"Silver" pan framing head self drilling screw have an attractive appearance and can be used taking into account these decorative features of fasteners. The process of galvanizing is based on the technological method of oxidation of the upper layer of hardware (4-20 microns) with zinc. Zinc oxide acts as a passive coating, protecting the metal from further oxidation by oxygen penetration.
The main advantages of pan framing head self drilling screw are accessibility and ease of use. These small fasteners allow you to quickly, and, most importantly, firmly fasten metal profiles to each other during the construction of a frame structure. Self-tapping screws do not fall off the bit due to their small mass and it is much more convenient and easier to screw them in with a screwdriver under the ceiling with one hand.
---
Previous:
CSK Phillip Drive Self Drilling Screw
---