CSK Phillip Drive Self Drilling Screw
Product Detail
Product Tags
Csk head self-drilling screws are highly durable and corrosion resistant, which allows it to be used in extreme temperatures and undersea applications as well. Since these screws are self-drilling, they can be used without drilling the pilot hole. Contrary to conventional methods of manufacturing, these screws are particularly made with two materials, one for the head and shaft, and another for the drilling tip. The tip is made of a harder material to allow precision fastening of metals. The addition of carbon drastically increases the strength of the material while making it extra strong.
It can also be used for lighter applications like securing wood to metal. Since they are slotted, they can be removed using a screwdriver. Due to the excellent proportions with which these screws have been engineered, they often give an aesthetically pleasing look to the finished product or component.
The uniqueness of Csk head screws is their very small head and resemblance to finishing nails. The size of the head of Csk head self-drilling screws allows them to countersink themselves, which makes them useful for attaching molding and trimming cabinetry.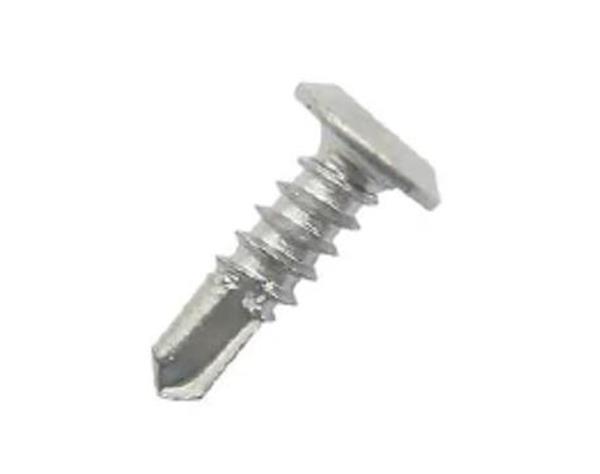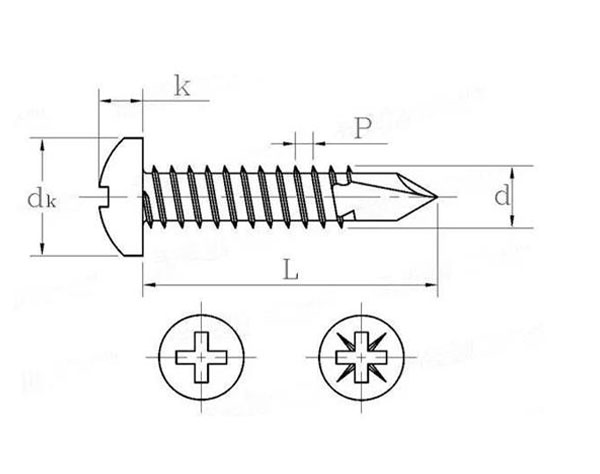 Pan head self-drilling screws are high strength and precision fasteners used for sheet metal applications. Their high hardness and strength combined with their lead threads allow for the perfect fastening of timber-to-metal or metal-to-metal. Since these are self-drilling screws, there is no necessity to drill a pilot hole. However, their accuracy of usage can be improved by using it along with a washer. This also reduces the impact of vibrations or constant movement of the product.
It is available in stainless steel, carbon steel, and alloy steel to bear more wear and tear while also making it more corrosion resistant. It is also resistant to degradation due to acidic and alkaline exposure. The pointed drill bit makes it suitable for high precision applications like machine and electrical components manufacturing. However, it would be better for the structural integrity to use these screws with washers to reduce the impact of metal against wood.
Metal sheets are used to frame a wide variety of products. To speed up the production process and ensure tight connections, self-drilling screws are used as fasteners. The drill-like tip of self-drilling screws is preferred over other methods of fastening due to its efficiency. Industries that use self-drilling screws for metal fastening include automobile construction, building, and furniture manufacturing.
The design and construction of self-drilling screws allows them to pierce 20 to 14 gauge metals.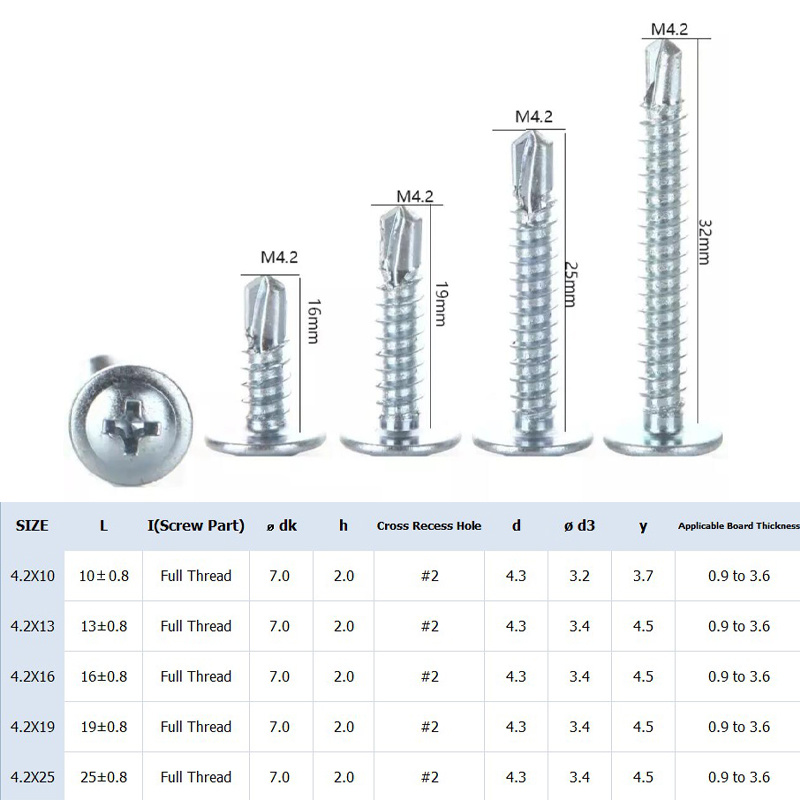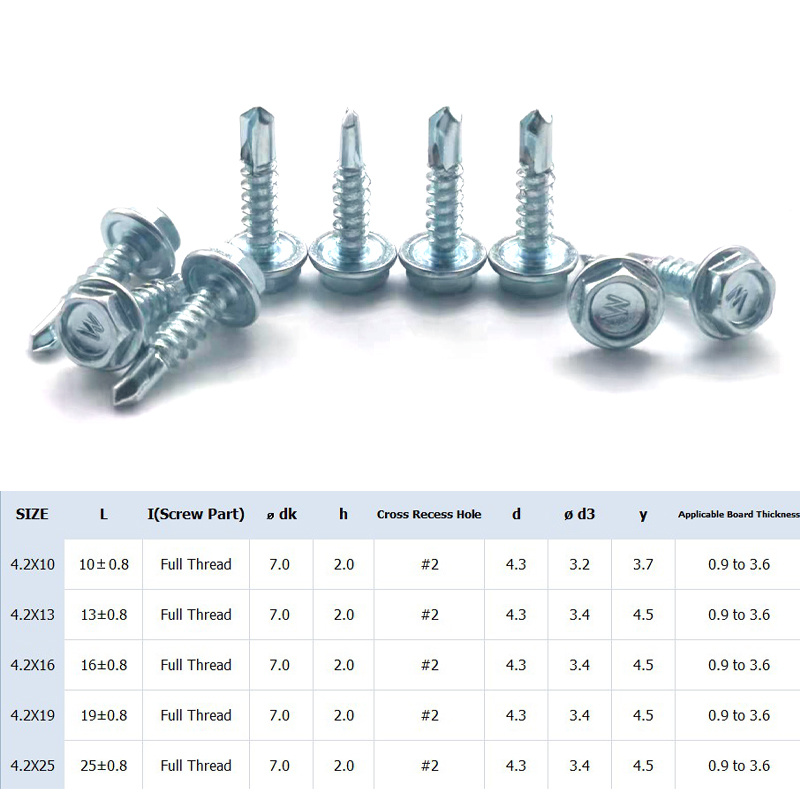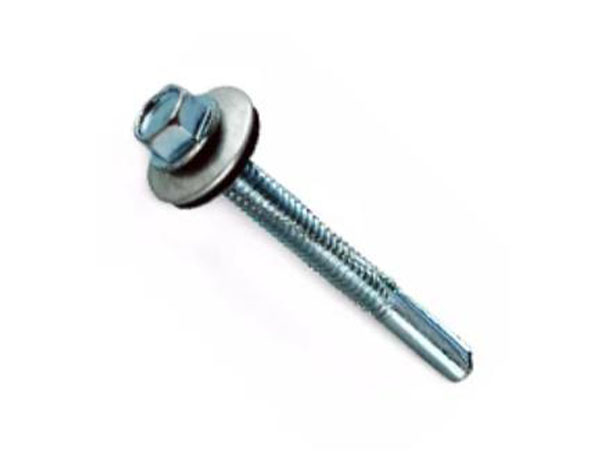 Hex head self-drilling screws are engineered to be corrosion resistant and come in various sizes and materials. Depending on the size, the applications of the hex self-drilling screws can vary - the smaller screws are used in applications like fixing thin gauge metals and fixing metal to wood. The larger screws are used in roofing and other industries which require self-drilling through tough metals. 
Our screws come in stainless steel, alloy steel, carbon steel and other materials which prevents corrosion.
If the hex head self-drilling screws are used in extremely hard materials, it is advised to use it after a pilot hole has been drilled. Our screws are case hardened and heat-treated for applications requiring fastening of soft materials on hard ones. With a lower installation torque, the threads on these screws allow for a quick transition from drilling to tapping. For effective penetration, make sure that at least three threads of the fastener are inside the material.
Hex head self-drilling screws for metal roofing are specially designed with a washer to form a tight seal when fastening. As with all self-drilling screws, they have a drill bit formed point that makes inserting them quick and easy.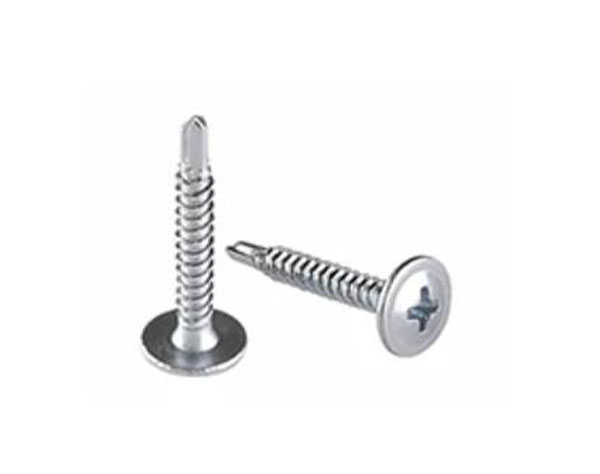 Truss head self-drilling screws from ITA Fasteners are corrosion resistant, precision fasteners. As they are self-drilling screws, the need to drill a pilot hole is eliminated. However, its usage should be accompanied by a washer to make sure that the fastener does not move with constant usage. It also reduces the impact of surface-to-surface fastening on both the surfaces. 
Truss head screws are generally weaker than any other type of screws, but they are preferred in applications requiring low clearance above the head. They can also be modified to reduce the clearance even further, while also increasing the surface of bearing.
Despite being comparatively low strength, they can still be used for metal-to-metal fastening. They can be drilled, tapped and fastened, all in one swift motion, saving the time and effort that you would have had to put in otherwise. They can be removed with the phillip head screwdriver. It is available in stainless steel, carbon steel, and alloy steel to bear more wear and tear while also making it more corrosion resistant.
Truss head self-drilling screws for framing must be able to cut through heavy duty metal studs. They have special heads designed to decrease driving torque but have exceptional holding strength. They are capable of driving through metals of up to 0.125 inches thick with an RPM rate of 1500. They come in a variety of metals to fit the operation and application.
Regardless of if the material to be drilled is metal lathe or heavy gauge metal (between 12 to 20 gauge), self-drilling screws can easily connect and frame a structure.
---
---